Awen's Call takes its name from a mystical power sought by the Bards and Druids: 'Awen' is a presence which gives poetic or artistic inspiration, and enables the receiver to inspire others.

Awen is exactly what Michael Sebastien and Elizabeth Jardine bring to a stage. Their performances and podcasts draw on over five decades of spiritual experience and feature story, original music, insight and practical meditation in a fusion of Western (Celtic) and Eastern (Himalayan) concepts.

BARDS OF A FEATHER
The pair, brother and sister, grew up in the West of England, an area steeped in folklore, mysticism and a rich Celtic history, near to the ancient sites of Stonehenge, Avebury, Glastonbury and Bath. Since early childhood they've been immersed in esoteric beliefs and practices and in 2023 they formed Awen's Call to share their unique 'Bardic blend' at events in the UK and beyond.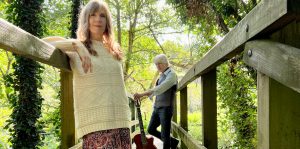 MICHAEL is a wordsmith, presenter, storyteller, musician and lyricist with a quirky English style and a talent for making spiritual concepts easy to grasp through music, humour and narrative.
ELIZABETH is a bardic singer, vocal musician and songwriter living in Wales. She has explored many esoteric paths and traditions, including over twenty years' practice of Himalayan Meditation.


THE BAND is a developing troupe of musicians who are woven together in different ways for live shows and for the Awen Calling Podcast. The music merges acoustic, folk rock, a cappella and Kirtana (dramatic and communal chant) and performances are interspersed by stories, discussions and metaphysical content.